Wits Business School students meet with their counterparts in Mauritius
Business updates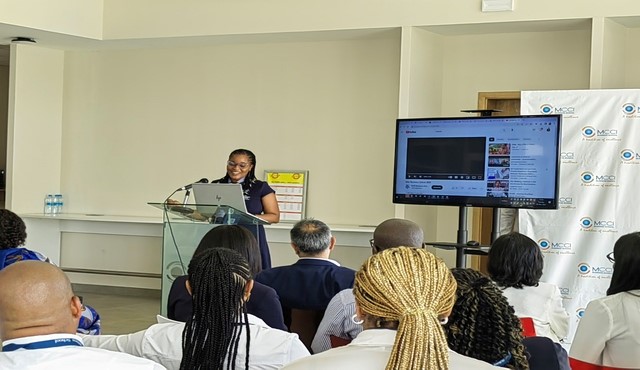 Wits Business School students meet with their counterparts in Mauritius
08 Nov 2022
Caption: Ms Keratiloe Mogotsi addressing the students and guests at the event.

A delegation of 21 students enrolled for a Masters of Business Administration course at Wits Business School, South Africa, visited the MCCI Business School at Ébène, on Tuesday 8 November 2022. The visit was part of a one-week study tour in Mauritius in view of getting exposure to industry-related places and situations.
A presentation on the MCCI Business School and the role of the Mauritius Chamber of Commerce and Industry (MCCI) was made, respectively, by the Chief Executive Officer of the MCCI Business School, Mr Toriden Chellapermal, and the Secretary-General of the MCCI, Dr Yousouf Ismaël. Ms Keratiloe Mogotsi, head of the delegation, spoke about the objective of the mission, which is to share experience with professionals in various sectors and with promotion agencies.
On this occasion, Her Excellency, Dr Hlamalani Nelly Manzini, recalled the common linkages that bind Mauritius and South Africa. She also invited the students to consider business and investment opportunities between both countries.
For her part, the President of the MCCI, Mrs Namita Jagarnath Hardowar highlighted the facilities offered by Mauritius, as a gateway to other countries of the region.