Workshop on AfCFTA: Building capacities by fostering on Regional Cooperation
Business updates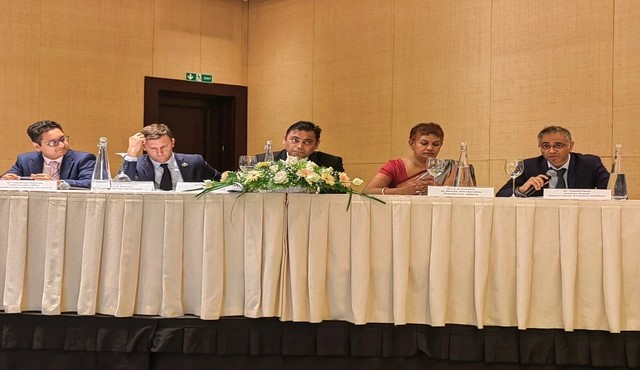 Workshop on AfCFTA: Building capacities by fostering on Regional Cooperation
09 Nov 2022
A National Awareness Workshop on the African Continental Free Trade Area (AfCFTA) was held at Westin Turtle Bay Resort & Spa, Balaclava, on Wednesday 9 and Thursday 10 November 2022. The event was organised by the Ministry of Foreign Affairs, Regional Integration and International Trade in collaboration with the United Nations Economic Commission for Africa (African Trade Policy Centre and Sub-regional Office for Southern Africa) and supported by the European Union (EU).


The aim behind the two-day workshop was to inform and sensitise the National Implementation Committee and representatives of private and public sectors of the opportunities and challenges under the AfCFTA in terms of trade and cross-border investment.


During the workshop on Logistics and Connectivity, it was felt that there was a trend towards the regionalisation of trade which would continue to grow in the coming years, and characterise the era of global trade. It was also highlighted that the AfCFTA could also help in building capacities by fostering on regional cooperation to secure technology transfer and skills within Africa, as well as increase the bargaining power of Africa in front of big economies.   


It was noted that three main challenges needed to be addressed, namely, poor connectivity, lack of infrastructure and of market information, so as to improve the movement of goods.
The panelists for the session on Logistics and Connectivity (from left to right): Mr Charansing Dabeesing, Chief Executive Officer, Mauritius Cargo Community Services Ltd; Mr. Sebastien Vauzelle, Senior Economist, United Nations Resident Coordinator Office; Mr. Vinay Guddye, Director, Economic Development Board; Mrs. Nomita Seebaluck, Ag. Director, Mauritius Ports Authority and Dr Yousouf Ismaël, Secretary-General of MCCI and moderator