Online Training: Activating Business Communities in Africa Against Corruption
Business updates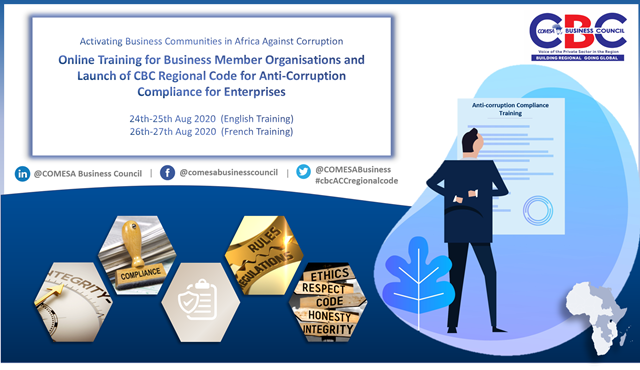 Online Training: Activating Business Communities in Africa Against Corruption
MCCI
17 Aug 2020
The COMESA Business Council (CBC) is launching the Regional Model Code for Anti-Corruption Compliance for Enterprises in the COMESA Region, following a two-day virtual workshop for Chambers and Associations to be held on August 24th & 25th in English, and on August 26th and 27th in French. The program is being supported by the Centre for International Private Enterprise (CIPE).
Strengthening governance, business integrity and anti-corruption compliance is essential for enterprises seeking growth opportunities; in terms of access to capital, finance, and trade integration opportunities in regional and global supply chains. As part of the Business Integrity Project that the CBC in partnership with CIPE has been implementing, over 200 enterprises in four COMESA member States; Ethiopia, Rwanda, Mauritius and Zambia have received capacity building and technical assistance related to best practice in business ethics and integrity.
Empowering the private sector to stem corruption and enhance their participation in transparency and anti-corruption reform initiatives is essential to creating an enabling business environment and sustainable development. Further to the above, the CBC has developed a Regional Code on anti-corruption compliance; a regional instrument to inform and provide a guide that enterprises/Associations to customize, develop and/or implement national anti-corruption compliance policies within their governance structures. The CBC Regional Code builds upon the work by CIPE and the International Chamber of Commerce (ICC) through the Principles for Combating Corruption for Business Associations and Chambers of Commerce. With the launch of the Regional Code and the pledge of commitment to the Code by CBC member Chambers and Associations, CBC will provide technical assistance to implement the code and empower the businesses communities in the region to be champions for anti-corruption and business integrity within the region.
The registration process, the agenda, and the workshop objectives can be accessed here.
The Regional Code on Anti-Corruption Compliance for Enterprises can be accessed here.